Chicago(IL) House cleaning
A Happy Home House Care Specialist
Chicago Carpet Cleaning offers you a range of quality house cleaning services that will give you great house cleaning tips that leave your home sparkling.
Whatever you need-an expert house cleaning for your new residence, a seasonal clean-up, or maybe you just want your home to be cleaned and refreshed - Chicago Carpet Cleaning can assist you.
Our house cleaning services department can provide you with house cleaning solutions for all your domestic needs. Using high-tech equipment and nontoxic materials, our professional house cleaning specialists will beautify and revitalize your home. They might even be able to offer you some valuable house cleaning tips.
Chicago Carpet Cleaning gives out free estimates for its house cleaning services. Our experienced professionals can suggest the best home cleaning solution suited to your needs.
Our home cleaning services include:
Carpet shampooing
Bathroom tiles & ceramics
Move in and out cleaning
Hardwood floor refinishing & installation
Deep cleaning of bathrooms
Floors mopped & vacuumed
Kitchen sanitization
Refrigerator cleaning
Steam cleaning
Stove & oven cleaning
Ventilation grills, door jams, ledges and sills cleaned and more...
We use a specialized formula with cleaning agents that are non-toxic, not-irritant and biodegradable. Our cleaning agent ingredients are safe enough to use near children, pets and allergy sufferers to give you complete house cleaning service.
Choose Chicago Carpet Cleaning as your trusted house cleaning company for all your domestic needs.
Here are some helpful house cleaning tips you can adopt into your domestic routine: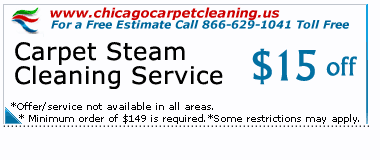 Make a List
View each room and create a list of your house cleaning priorities. Recognize specific tasks and when you complete each one, cross it off your list.
Stop Distractions.
Turn off the TV.
Let your answering machine handle phone calls.
Prepare all necessary cleaning tools in the room in order to avoid unnecessary trips to your cleaning closet.
Start at the top of a room and work your way down as you clean or straighten up.
Kitchen:
Wash & wax wood floors.
Mop vinyl floors.
Clean out the refrigerator and pantry.
Change shelf liners.
Straighten out the "junk" drawer.
Wipe cabinets.
Bathroom:
Wash windows inside and out with a squeegee and dust-free cloths.
Dust the windowsill.
Vacuum the window well.
Window treatments:
Vacuum draperies.
Wash blinds.
Replace heavy draperies with lightweight or sheer curtains for a fresh look.
Furniture:
Polish wood furniture.
Vacuum cloth upholstery. Clean and condition leather upholstery.
Vacuum between cushions.
Clean behind and under sofas and cabinets.
Before bedtime, pick up the family room and run the dishwasher. Get a fresh start each day.
These tips can help you in your routine housecleaning. For more superior cleaning projects, contact the professionals at Chicago Carpet Cleaning .us
Chicago Carpet Cleaning the experienced, quality cleaners to give you a higher quality house cleaning.
You've Got A Top Of The Line Home, then You Deserve A Top Of The Line Cleaning Service! At Chicago Carpet Cleaning Call at and receive a free estimate for all your cleaning and maintenance requirements.